QUALIPHAR'S OWN WIND FARM
The development and installation of both wind turbines are the result of a close partnership with developer W-Kracht and civil cooperative BeauVent.
As an important Belgian player in the production of medicines and healthcare products, this is our sustainable contribution to a greener environment, both inside and outside our company. Through the construction of two wind turbines on the company premises, Qualiphar will make its production activities 100% CO2-neutral in the near future.
On Friday 17 May 2019, a ground-breaking ceremony was held where Minister Peeters, surrounded by other prominent figures, inaugurated the Qualiphar windmill project.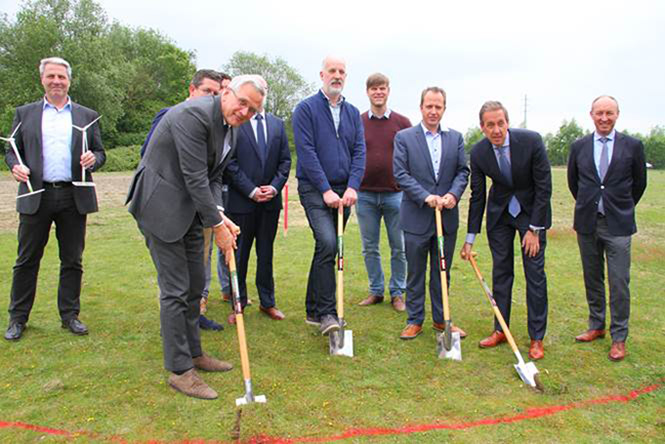 Qualiphar and Odisee University of Applied Sciences are joining forces to research how a natural preservative can be extracted from the wood of old apple trees.
The ultimate goal of this research is to replace the currently used antioxidants/preservatives with natural alternatives. This will be done sustainably by repurposing the felled trees in a useful manner.
At Qualiphar, we make environmentally-conscious choices. The electric charging stations on our company car park are fully in line with this sustainable and eco-friendly approach.
We invested in the installation of 11 charging stations to allow our employees to charge their hybrid cars. After all, generating green electricity to charge cars is much more environmentally friendly than producing petrol or diesel.
At Qualiphar we take initiatives to improve the bees' living environment. Bees are vital for nature, our food, biodiversity, health and the economy.
By placing hives on our sites, we aim to give all of this a boost.